Highlights Siemens Upright Freezer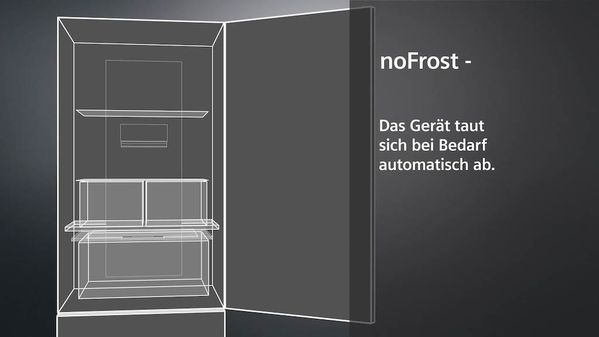 No more defrosting: the no Frost Siemens Upright Freezer technology.
With no Frost, a ventilation system diverts the humidity from the freezer compartment. As a result, the air remains dry. This reliably prevents frost from forming on the inside of the appliance or on your food.
Flexibly use the Siemens Upright Freezer compartment: the vario Zone.
You can remove drawers and the glass shelves between the drawers, allowing you to customise your freezer space.

Ensures even cooling at all levels: the multi Airflow system.
The multi Airflow system circulates the air evenly in the refrigerator compartment for constant temperatures. Foods recently placed inside are cooled faster. And the fresh food quality is preserved better.
Freeze super large quantities super fast: super Freezing.
To prevent thawing of frozen foods when placing large quantities of new food in the freezer, simply activate the super Freezing button before going shopping. The appliance will then automatically cool down to a temperature as cold as –30 °C so that newly stored foods do not interrupt the freezing process.
Ideal for large frozen food items and much more: the big Box.
An entire leg of lamb, several pizzas, or a tall container full of freshly picked blueberries – for especially large or cumbersome food items you need an extra-large storage space. The bigBox gives you plenty of space to accommodate and stack everything. And when you need an even larger space, all the drawers and shelves can be easily removed from the freezer compartment, quickly putting the entire freezer space at your disposal.
Always reliable: the multi Alarm system.
The multi Alarm system notifies you visually and acoustically when the temperature rises, which can happen for example if the door is left open.